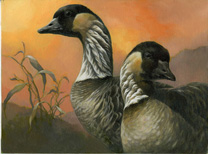 Seokkyun Hong of Dallas, Texas, won the Federal Junior Duck Stamp Design Contest held this past weekend in California at the San Diego Zoo.
The 18-year-old's depiction of a pair of Nene (Hawaiian goose) will be featured on the 2008-2009 Federal Junior Duck Stamp. The painting was chosen from 53 entries.
The oil painting which previously won the Texas State Junior Duck Stamp Contest, was judged the top entry among the Best-of-State entries from all 50 states, the District of Columbia, American Samoa and the U.S. Virgin Islands. Bob and Rita Dumaine, of Sam Houston Duck Co. were honored to serve as judges in the Texas contest, held March 26.
The 2008-2009 Federal Junior Duck Stamp, which the U.S. Fish and Wildlife Service will make available for $5 to stamp collectors, conservationists, and the general public will be released on June 27, 2008, along with the 2008 Federal Duck Stamp (RW75). Proceeds from Junior Duck Stamp sales are used to support environmental education efforts and awards for contest winners.
Lydia Han, age 15, of San Jose, California, took second place with a water-color depicting a pair of ruddy ducks called "Contented Pair." Third place went to Rebekah Nastav, age 17, of Amoret, Missouri for her rendition of a single hooded merganser called "Evening Swim" done in acrylic. Rebekah was also the winner of the 2006 Federal Junior Duck Stamp competition.
The Junior Duck Stamp Contest winner receives a free trip to Washington, D.C., along with their art teacher, a parent, and the state coordinator, to be honored during a First Day of Sale Ceremony held in June. The first-place winner receives a $5,000 award. The second place winner receives $3,000 and the third-place winner receives $2,000.
2008-2009 Second Place Winner
by Lydia Han 15, of Californa
2008-2008 Third Place Winner
by Rebekah Nastav of Missouri